Quilt the Places You Love
At first glance, award-winning artist Valerie Goodwin's quilts are stunning for the intricacy of their lines which create complex shapes and designs. Closer inspection slowly reveals these patterns are city blocks and urban landscapes captured from an aerial perspective. Drawing inspiration from architectural maps, plans, and blueprints, Goodwin's combined love for architecture and art is evident through the detail and care in her works. 
Transform the places you love—and places you've always imagined or wanted to see—into one-of-a-kind pieces of art. Valerie shows you how to make quilted maps with easy fabric collage techniques and innovative designs based on maps of your favorite places. She guides you through finding inspiration in real and imaginary sites, selecting a color palette, transforming a place's essential lines and shapes into quilt designs, creating luminous textures with fabric layering, paints, stamps, stencils, drawing, free-motion stitching, and appliqué. This course is packed full of various techniques you can use to create your own Art Quilt Map.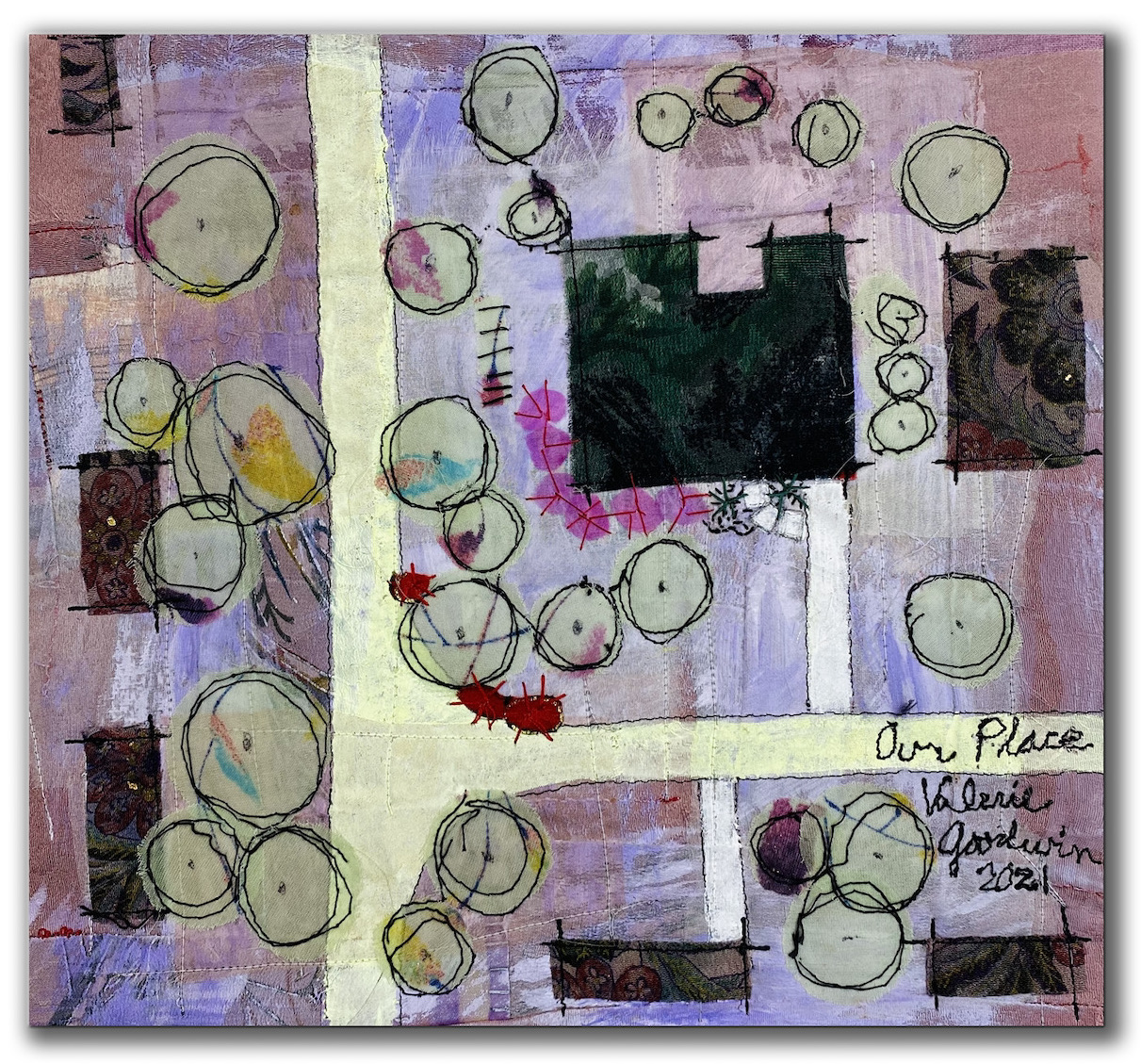 How to select and design your map & tricks for color selection to make your map come to life.

A unique way of piecing together the fabric to create an interesting background surface for your map.

Techniques for creating map elements such as trees and shrubbery. These organic elements can help add more variety and convey the natural feeling of your special place.

The secret ingredient to this process is using sheers to help create a beautiful watercolor-like effect. Watch Valerie show you how to prepare and select the sheer fabrics.

A gallery of map inspiration for your own Art Quilt Map

Includes access to course videos, downloads, the Creative Spark private community, and discussion with your instructor. Your course content does not expire.
+ FREE Art Quilt Maps eBook includes a fully illustrated guide as well as a large photo gallery of quilt maps by Valerie and her students ($19.99 value)
+ Tips and tricks to finding maps of your favorite spaces at just a click of the mouse
Mapping Personal Places
Transform the places you love! Learn how to use fabric, paint, and thread to make your own beautiful fiber art map. Have fun learning collage and mixed media art processes to add to your arsenal of techniques.
Course Curriculum
WELCOME TO THE WORKSHOP!

2 Videos 1 Text 1 Download

CREATING THE EARTH'S SURFACE

1 Video

PUTTING IT ON THE MAP

4 Videos

FINISHING TOUCHES

4 Videos