Talk Show Style for All Quilt Lovers
Each episode is 60 minutes
Quilting Conversations With Trendsetting Designers for Quilt Enthusiasts
Back for another exciting season, The Quilting Hour explores quilting techniques and creative trends. Every 2 weeks the LIVE one-hour conversations will focus on a specific theme or technique. Expert quilter Lee Chappell Monroe of May Chappell will host two sensational guests and guide the conversation to be sure you learn the most you can on the theme of the week. Of course, there will be time to ask questions so come ready to participate. 
If you miss the LIVE event, don't worry because the discussions will be recorded and accessible to watch at your leisure. So pick a discussion topic you want to learn more about or better yet sign up for the entire series! Check out the topics and guests.
Check Out the All-Star Quilting Experts
What To Expect Each Episode
Piece-ful Cottage Quilting
Learn how to create a cozy vibe in your quilts inspired by cottage color, design and lifestyle. Hear how nature and a close relationship to Earth can be seen in this style of quilts and fabric choices. Special guests Corey Yoder and Joanna Figueroa
LIVE event on November 5th at 12pm PT
Sensible Sewing Spaces
Whether you have a closet, a loft, a spacious studio or a laundry room, hear how our guests have maximized their creative spaces no matter what the size. You'll learn tips and tricks to organizing your space for fabric, thread and notions while still have a place to create. Special guests Lilo Bowman and Felie Hempfling
LIVE event on November 19th at 12pm PT
Choosing the Perfect Free Motion Design
Want to learn how these quilt experts perfectly pair the right quilting motif to their finished quilt top? Learn how to look to the quilt design and fabrics used for inspiration and how the right free motion design can enhance the piecing. Special guests Carolyn Friedlander and Christina Cameli
LIVE event on December 3rd at 12pm PT
Modernitional Quilts: When Modern and Traditional Collide
What happens when a designer brings a fresh look or twist to traditional quilt designs? Modernitional! This episode will talk about the results when traditional and vintage designs use modern techniques and the inspirational places and experiences our guests draw upon. Special guests Alex Anderson and Anita Grossman Solomon
LIVE event on December 17th at 12pm PT
Pairing the Pattern: Successfully Picking Fabric
Want to know how these guests pair fabric with their pattern... or maybe it's the other way around. Which ever comes first, you will hear great strategies on how to find the right fabric for your pattern or vice versa! Special guests Pat Sloan and Stephanie Soebbing
LIVE event on January 14th at 12pm PT
Reroute Your Quilts with Maps
Using maps as inspiration in quilting is a hot trend. Learn the best techniques for incorporating maps, from appliqué to piecing to bias roads...the road doesn't end. Get inspired to preserve a special place, honor a memory or build an original world through map quilts. Special guests Valerie Goodwin and Timna Tarr
Live event on January 28th at 12pm PT
Now Learn More About Everyone!
Alex Anderson of Alex Anderson Quilts
Alex Anderson's love of quilting all began when she completed a quilt as a part of her degree in art from San Francisco State University. Over the years her central focus has been to understand fabric relationships and an intense appreciation of traditional quilts and beautiful quilting surface design. Alex is the author of 30 books, selling over 1 million copies worldwide. She is a designer of fabrics with RJR Fabrics, and co-creator of the Quilters Select brand. Alex is a founding partner of The Quilt Show.com.
Anita Grossman Solomon of Make it Simpler
Anita constructs artful bed quilts of classic blocks. What isn't revealed by looking at them are the innovative methods she uses to easily cut and piece them. Her work has been displayed from the ceiling of the Quilt Festival in Houston, and in Manhattan, where she resides, on the Times Square Astrovision screen. She's appeared on "Simply Quilts", "The Quilt Show", and "Quilt Out Loud". An international teacher, she is also an instructor on Craftsy and a three-time author for C&T Publishing.
Carolyn Friedlander
Carolyn Friedlander is a designer working from her hometown of Lake Wales, Florida, an environment she enjoys for its warm weather, few distractions, and potent community of creative folk. In her work, she draws inspiration from features of the Florida landscape--its longleaf pines, palmettos, scrubland, sand, vibrant colors--as well as her background in architecture.
Christina Cameli 
Christina Cameli is a quilter with a thousand interests. She is a fabric and pattern designer as well as a teacher and author and feels the happiest piecing with scraps and free-motion quilting. She finds joy in sharing the magic of quilting with anyone who is ready to try something new. Christina is known for her clear instruction and calm, soulful encouragement, which she shares far and wide through her books and online classes. Her 5 quilting books include Wedge Quilt Workshop and Step-by-Step Free-Motion Quilting. Christina works as a nurse-midwife and lives with her blended family in Portland, Oregon.
Corey Yoder of Coriander Quilts
Corey Yoder grew up surrounded by quilts and quilting.  This led to her love of fabric and an avid interest in quilt making after getting married in 1997.  Corey's love of quilts soon led to quilt design.  Her work has been featured in many quilting magazines and quilt books.  Her first book, Playful Petals, was published in 2014 and several more have followed since.  Designing quilts led to an interest in fabric design, and Corey's first line of fabric with Moda Fabrics was released in 2015.  To date, she has released 15 fabric lines with Moda fabrics.  With the release of her first fabric line, Corey launched her quilt pattern line, Coriander Quilts (Corey and her quilts).
Felie Hempfling of London & Granger
Felie is a self-taught sewer with a passion for sewing in rainbow order using modern prints that are high in color saturation. She also enjoys the challenge of sewing through her scraps, and not letting those precious bits go to waste!
Joanna Figueroa of Fig Tree & Co
Joanna is a licensed designer for MODA fabrics, beloved for her numerous fabric collections- more than 45 to date- in her signature Fresh Vintage™ style. She owns and operates the popular Fig Tree & Co. which specializes in a fresh take on traditional quilt patterns and BOM programs. Currently, Fig Tree offers more than 300 stand-alone patterns.
Joanna has written several books, has been featured in dozens of publications, and is an internationally known teacher. 
Lilo Bowman
Lilo Bowman has worked as a floral designer, translator, tour guide, wedding planner, and is now editor-in-chief of TheQuiltShow.com. Her work has been varied, often challenging, but always creative. Since early childhood, she has been instilled with the desire for and love of doing something with your hands, learned by observing the varied and beautiful items crafted by both of her grandmothers. Raised in German culture, Lilo was always keenly aware of and fascinated with objects (whether utilitarian or decorative) that were attractively displayed while still being orderly.
Pat Sloan 
Pat Sloan is a designer, author, and lecturer. She has a deep passion for making quilting fun for herself and everyone around her. Pat loves to hang out with quilters on the internet with her popular Facebook group, Quilt Along with Pat Sloan! Sewing since she was a child and quilting for over 20 years, Pat is a vital part of the quilting community.
Stephanie Soebbing of Quilt Addicts Anonymous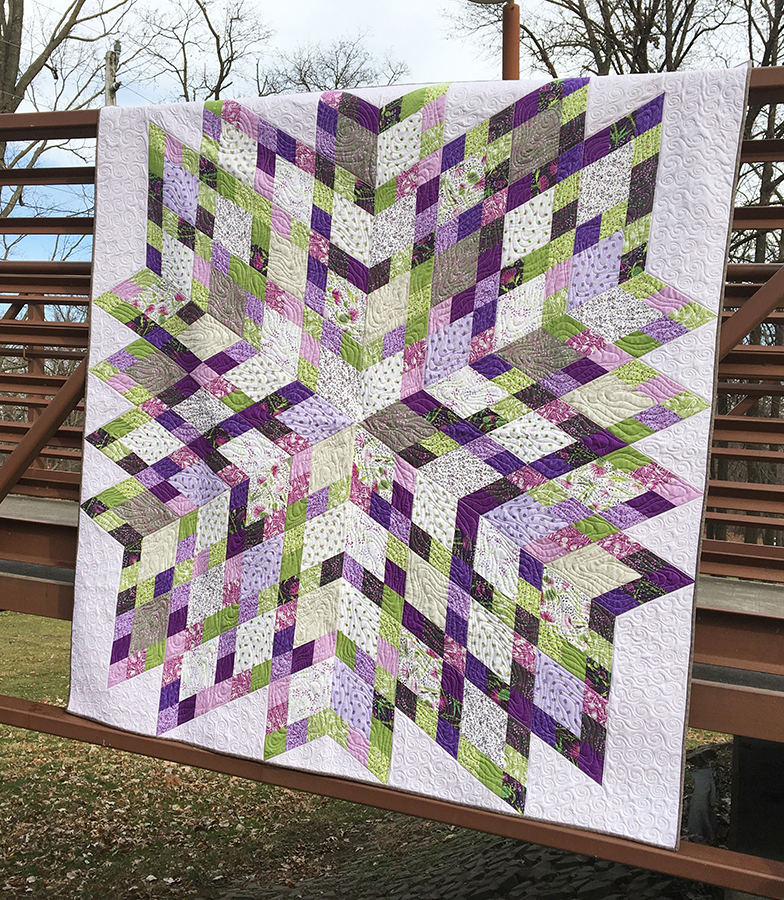 Growing up Stephanie Soebbing had one goal: to make a career out of writing. Really she just wanted to be creative, but it took some time to figure that out. When she was pregnant with her first daughter she set the goal to turn her quilting blog and pattern design company into a business. Seven years later Quilt Addicts Anonymous reaches more than 250,000 quilters each year teaching them to quilt and inspiring them with video tutorials, new patterns, and modern quilting fabrics.
Timna Tarr of Timna Tarr Quilts
Timna Tarr comes from a long line of quilters but did not begin quilting until after studying art history in college. She bought her first longarm in 2001 and began quilting clients' quilts shortly thereafter. Timna's own nationally award-winning quilts are in private and corporate collections. They have also been seen in numerous exhibits, magazines, and books as well as on The Quilt Show and Quilting Arts TV. Timna is a designer for Studio e Fabrics and is an in-demand teacher and speaker. She lives in Western Massachusetts.

Valerie Goodwin of Valerie Goodwin Art
Valerie S. Goodwin is a fiber artist and architect whose works of fine art are included in museum and private collections. Most of her work is inspired by a love of aerial views of landscapes and cities.  She explores the use of "lace-like" map lines using electric and laser cutter technology.
Our Resident Expert and Host: 
Lee Chappell Monroe of May Chappell
Lee has been creating since she first discovered crayons at age 2! She's from a family of quilters and learned everything from her mother, affectionately known as The Guru. She loves all things fabric—from zippy pouch to queen size quilt—and everything in between. With a love of color and bold graphic shapes, Lee enjoys designing patterns and teaching all types of classes, while sharing her adventures on her blog, May Chappell. She is a trained graphic designer which shows in her clean aesthetic. Her work has appeared in multiple publications and she recently published her first book with C&T Publishing, Jump Into Sewing. Look for another book from Lee next year!
The Quilting Hour: Season 2
Join resident expert and host Lee Chappell Monroe to discuss quilting topics with other quilt masters and trendsetters. LIVE episodes start at 12pm Pacific Time and recordings do not expire.
The Quilting Hour Bundle 

Get access to all 6 events and save over 30% ...it's like getting 2 Hours FREE!

Piece-ful Cottage Quilting

Live event on November 5th with special guests Corey Yoder and Joanna Figueroa.

Sensible Sewing Spaces

LIVE event on November 19th with special guests Lilo Bowman and Felie Hempfling. 

Choosing the Perfect Free Motion Design

LIVE event on December 3rd with special guests Carolyn Friedlander and Christina Cameli.

Modernitional Quilts: When Modern and Traditional Collide

LIVE event on December 17th with special guests Alex Anderson and Anita Grossman Solomon.

Pairing the Pattern - Successfully Picking Fabric 

LIVE event on January 14th with special guests Pat Sloan and Stephanie Soebbing.

Reroute Your Quilts with Maps

LIVE event on January 28th with special guests Valerie Goodwin and Timna Tarr.