Quilting Conversations with Trendsetting Designers For Quilt Enthusiasts
A spin-off of our popular Happy Hour Series, The Quilting Hour dives deeper into quilting techniques and trends. Each week the LIVE one-hour conversations will focus on a specific theme or technique. Expert quilter Lee Chappell Monroe of May Chappell will host 2-3 sensational guests and guide the conversation to be sure you learn the most you can on the theme of the week. Of course there will be time to ask questions so come ready to participate. 
If you miss the LIVE event, don't worry. Each week's discussion will be recorded and accessible to watch at your leisure. So pick a discussion topic you want to learn more about or better yet sign up for the entire series!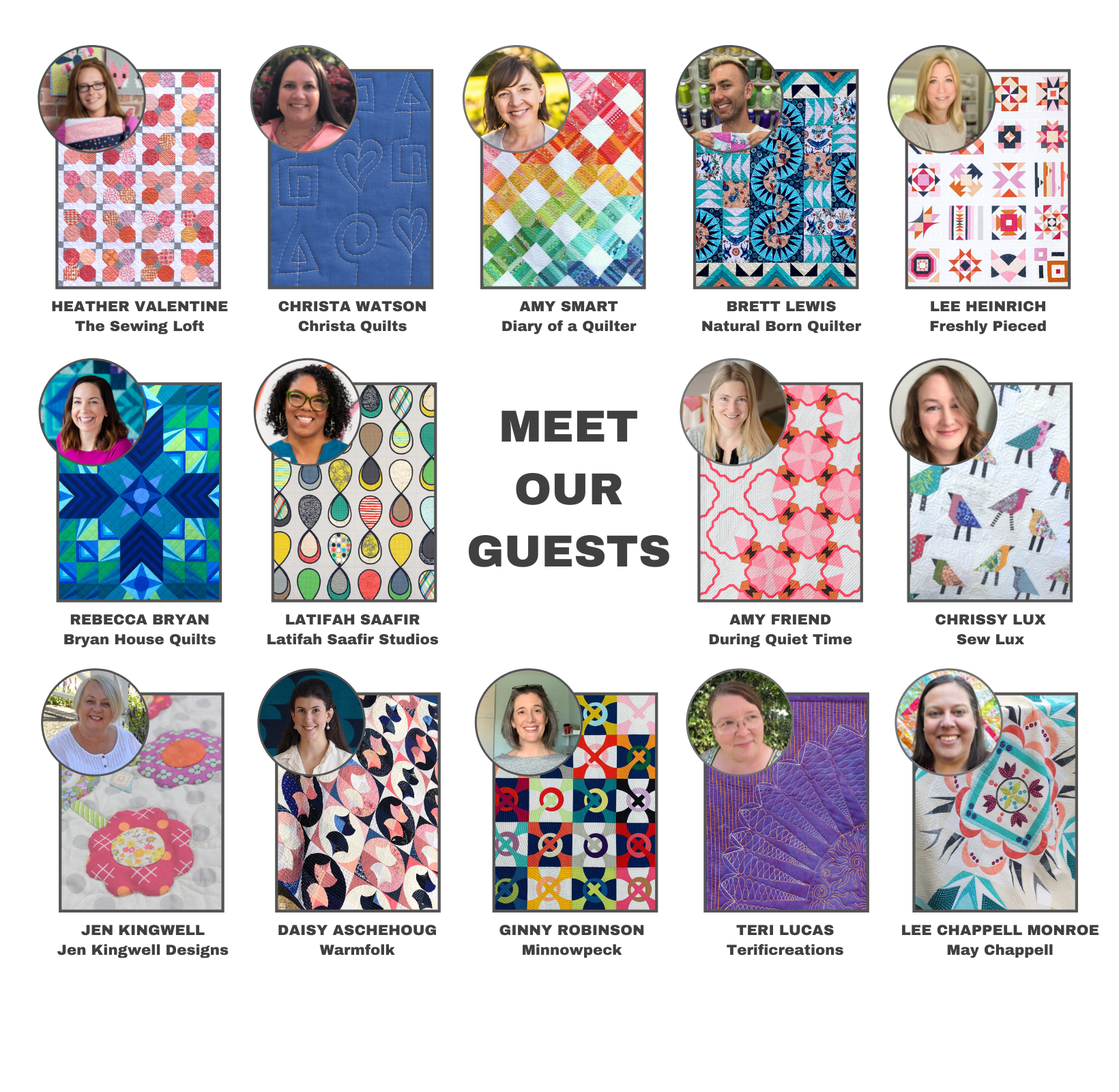 Weekly Topics and Guests
Hosted by Lee Chappell Monroe. All Talks Are Recorded for Replay.
Piecing with Scraps
Turn your fabric trash into quilt treasures. We'll cover everything from scrap storage to color talk to favorite scrap patterns. Special guests Amy Smart and Heather Valentine
LIVE event on June 25th at 12pm PT
Stitching on a Curve
Don't let curves stress you out! Come learn how to get started sewing curves, what the best tools are, pattern ideas for every ability. Special guests Latifah Saafir, Daisy Aschehoug and Brett Lewis
LIVE event on July 2nd at 12pm PT
Addition of Appliqué
This hour will be packed with content. Discussions will include machine and hand appliqué tips, when to use needle turn, freezer paper, or another technique for your creations. Bonus: find out the answer to this question: Is it faux? Special guests Ginny Robinson and Jen Kingwell
LIVE event on July 9th at 12pm PT
Using a Foundation Piecing Method
Foundation Piecing is not only fun and addicting, it can also help you achieve a hard-to-piece design. Some of the quilt talk will include how to avoid ripping papers out as well as designing your own foundation patterns. Special guests Amy Friend and Rebecca Bryan 
LIVE event on July 16th at 12pm PT
Expanding Your Patchwork Skills
Jump right into intermediate skill discussions and including using HST tools and applying patchwork to projects other than quilts. Special guests Lee Heinrich and Chrissy Lux
LIVE event on July 23rd at 12pm PT
Quilting on a Domestic Machine
Let's be honest. Most folks don't have a long arm machine at home. Learn how to use your domestic machine to accomplish your own quilting. We'll chat about everything from thread to batting and of course designs. Special guests Teri Lucas and Christa Watson
Live event on July 30th at 12pm PT
Buy a Bundle of 6 Hours and Save Over 30%
Or Just Buy the Hours You Want
Get access to all 6 events and their recordings for 1 year. All Live Quilting Hours start at 12pm Pacific Time. Save 30% when buying the bundle...it's like getting 2 Hours FREE!
This is a RECORDING of the live event with special guests Teri Lucas of Terificreations and Christa Watson of Christa Quilts.

This is a RECORDING of the live event with special guests Lee Heinrich of Freshly Pieced and Chrissy Lux of Sew Lux.

This is a RECORDING of the live event with special guests Amy Friend of During Quiet Time and Rebecca Bryan of Bryan House Quilts.

This is a RECORDING of the live event with special guests Ginny Robinson of Minnowpeck and Jen Kingwell of Jen Kingwell Designs.

This is a RECORDING of the live event with special guests Latifah Saafir of Latifah Saafir Studios, Daisy Aschehoug of Warmfolk and Brett Lewis of Natural Born Quilter. 

This is a RECORDING of the live event with special guests Amy Smart of Diary of a Quilter and Heather Valentine of The Sewing Loft. 
Hosted By Expert Quilter Lee Chappell Monroe
Lee Chappell Monroe of May Chappell
Lee has been creating since she first discovered crayons at age 2! She's from a family of quilters and learned everything from her mother, affectionately known as The Guru. She loves all things fabric—from zippy pouch to queen size quilt—and everything in between. With a love of color and bold graphic shapes, Lee enjoys designing patterns and teaching all types of classes, while sharing her adventures on her blog, May Chappell. She is a trained graphic designer which shows in her clean aesthetic. Her work has appeared in multiple publications and she recently published her first book with C&T Publishing, Jump Into Sewing. Look for another book from Lee next year!
Website/Blog: maychappell.com
Instagram: @maychappell
Amy Friend of During Quiet Time
Amy Friend is a former museum curator turned designer.  She designs modern quilts and specializes in paper pieced designs.  She authored the books Intentional Piecing (2016) and Improv Paper Piecing: A Modern Approach to Quilt Design (2017), and has a new book, Petal + Stem (2020).  Since 2019, Amy has run a paper pieced Block of the Month program.  An award winning quilter, her quilts have been exhibited at a number of quilt shows and museums. You can follow her creative path on her blog During Quiet Time.
Website: duringquiettime.com
Instagram: @duringquiettime 
Facebook: duringquiettime
Amy Smart of Diary of a Quilter
Amy writes the popular blog, Diary of a Quilter, which has allowed her to find hundreds of other people who share the same interest in cutting up fabric into little tiny pieces and sewing them back together as she does. She also is a Riley Blake fabric designer.
Website: diaryofaquilter.com 
Instagram: @diaryofaquilter  Facebook: diaryofaquilter
Pinterest: amy_u_smart
Brett Lewis of Natural Born Quilter
Avid Quilter and Fabric Designer, Brett Lewis, aka Natural Born Quilter, discovered his love of the craft through learning to sew and quilt in 2016. Fast forward over 50 quilts later, Brett has been featured in the acclaimed magazine Love Patchwork and Quilting, various podcasts, and instructs his very own EQ8 designed quilt patterns, with classes focusing on foundation paper piecing, fussy cutting, and curves. His quilting style is Contemporary Traditional, using contemporary vibrant and bold fabrics with traditional patterns. Brett debuted his premiere fabric line Stag and Thistle with Northcott Fabrics in 2019. His second collection "Prairie Meadow" will be shipping Fall 2021.
Website: naturalbornquilter.com
Instagram: @naturalbornquilter 
Facebook: Natural Born Quilter
Chrissy Lux of Sew Lux
Chrissy Lux owns Sew Lux Fabric with her mom, Linda Herrman. She learned to sew from her mom and made her first quilt for her college dorm room. Quilting and bag making became a more serious hobby after college and in 2010 they opened their online shop and haven't looked back!
Chrissy enjoys making scrappy quilts and designing smaller (and quicker to finish!) projects like pouches and pillows for their monthly clubs. She will make any bag her own using patchwork panels and pieces. These include the popular Sew Together Bag, Weekender Bag and Nova Tote.
Website: sewluxfabric.com
Instagram: @sewlux 
Facebook: sewluxfabric
Christa Watson of Christa Quilts
Christa Watson is an enthusiastic, award-winning quilter from Las Vegas, Nevada who enjoys teaching others to find joy in making "perfectly imperfect" quilts from start to finish. She's a fabric designer, quilting industry ambassador, and cheerleader for the modern quilting movement. She's written several quilt books, and she publishes numerous original quilt patterns.
 Website: christaquilts.com
Shop: shop.christaquilts.com
Instagram: @christaquilts
Facebook: christaquilts
Daisy Aschehoug of Warmfolk
Daisy has been making quilts since 2010 and designing quilts for magazines since 2016. She is passionate about the art of modern traditionalism and incorporating curved piecing into utility quilts. Daisy is also excited to explore how the resources she uses in her craft can reflect socially and environmentally sustainable practices. She is a member of the Modern Quilt Guild and the Studio Art Quilt Associates. She is also a C&T author.
Website: warmfolk.com
Instagram: @warmfolk
Facebook: warmfolk
Ginny Robinson of Minnowpeck
Ginny Robinson began quilting in 2009, inspired by her grandmother, who was born into a very long, unbroken line of Kansas quilters. Besides quilting, she also writes and teaches, so she feels pretty lucky anytime two or three of these activities come together. She currently finds inspiration in the way craft traditions can "speak" to each other, and of all quilty things, she loves appliqué the most because at its best, it's forgiving, a trait she seeks more and more in everything.
Website: minnowpeck.com
Instagram: @minnowpeck
Heather Valentine of The Sewing Loft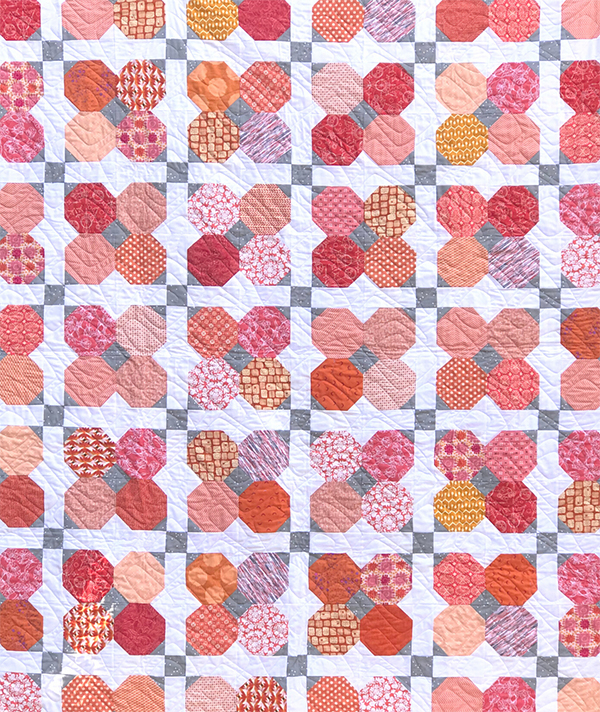 Heather is the voice behind The Sewing Loft. This self-proclaimed fabric hoarder likes to stitch the night away and dreams of one day discovering a better way to detangle her thread collection. These days, you can find Heather teaching at local shops and sharing her talent in online video classes. Each year she hosts a sewing retreat, Sew Scrappy.
Website: thesewingloftblog.com
Instagram: @thesewingloft
Pinterest: thesewingloft
Facebook: TheSewingLoftFB
Jen Kingwell of Jen Kingwell Designs
After decades of exploring all areas of the craft world, Jen bought her first patchwork store in 1999. Surrounding herself daily with walls of fabric encouraged her to explore colour combinations and push the boundaries when discovering her signature style: which she describes as "traditional blocks with a modern twist". It's Jen's use of colour that makes her quilts instantly recognisable. She is a scrap quilter and the more fabrics she can include in any one project the happier she is. Jen now travels the world teaching and lecturing but always loves returning to her family and store- Amitie Textiles in Torquay, Australia.
Website: jenkingwelldesigns.com and amitie.com.au
Instagram: @jenkingwell @amitietextiles 
Facebook: amitie.textiles 
Latifah Saafir of Latifah Saafir Studios
Latifah Saafir is known for her bold and innovative modern quilts. Combining her training as an engineer with her lifelong passion for sewing, Latifah creates designs that are graphic and contemporary, featuring challenging techniques with meticulous attention to detail. A co-founder of both the Los Angeles Modern Quilt Guild and the worldwide Modern Quilt Guild, Latifah currently teaches workshops to guilds around the country.
Website: latifahsaafirstudios.com
Instagram: @latifahsaafirstudios
Facebook: latifahsaafirstudios
Lee Heinrich of Freshly Pieced
Lee began her career as a news reporter, writer, and editor, later making a switch to graphic design. She took up sewing after stopping work to stay home with her daughter. Designing quilts felt like graphic design in the form of fabric, so is it any surprise that she love it? She now has a line of quilt patterns and co-authored the book Vintage Quilt Revival: 22 Modern Designs from Classic Blocks. Lee's work has been seen in numerous magazines including Curated Quilts, Quiltmaker, Fons and Porter's Easy Quilts, and more.
Website: freshlypieced.com
Instagram: @lee.a.heinrich
Facebook: lee.a.heinrich
YouTube: Lee Heinrich
Rebecca Bryan of Bryan House Quilts
Rebecca Bryan is an award-winning quilter, author and fabric designer. Rebecca experienced a color revolution when she used rainbow colors in her designs, moving her from color muddler to color master. Today she teaches thousands of quilters how to create color palettes. Her other love is modern triangles and teaching quilters how-to-techniques through her courses, books and patterns. Her work is described as fun, modern, playful, classic, and always colorful.
Website: bryanhousequilts.com
Instagram: @bryanhousequilts
Facebook: Quilting in Color
YouTube: rebeccabryan
Teri Lucas of TerifiCreations
Teri Lucas is the Chief Creative Weirdo at TerifiCreations, quilter, teacher, and author of Color, Thread & Free-Motion Quilting Learn to Stitch with Reckless Abandon (July 2020). Teri is best known for her improv style quilting, with a bit of spunk and a dash of sass. She loves talking about needles, thread, and tension - Oh My. And batting too. Look for courses on Creative Spark from Teri in the near future.
Website: terificreations.com
Instagram: @terilucas
Facebook: TeriLucasquilts
Pinterest: quiltedteri
Get the scoop on the newest classes and LIVE events
Add your email to the mailing list today